The Team
Robinder Sachdev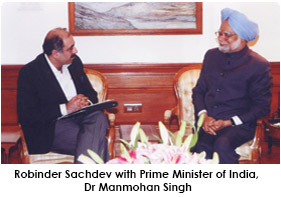 Robinder Sachdev is founder president of The Imagindia Institute. Mr. Sachdev is a world acknowledged authority across geopolitics, public and economic diplomacy, image and campaign management, cross cultural communications, and affairs of the Indian Diasporas.
Mr. Sachdev has lived and worked in the U.S., Russia, Kazakhstan, and Dubai, and is now based at New Delhi. Mr. Sachdev is also Trustee of the Children's Book Trust, India's oldest national children's organization founded by the legendary political cartoonist, Shankar.
In pursuit of public and economic diplomacy, Mr. Sachdev often arranges and hosts discussions with, and among, U.S., European, and Indian governmental, political, and corporate leaders and delegations. He is an invited speaker or moderator at conferences in India and abroad, and was the program director of Europe's largest India investment summit in London last year, hosted by Wall Street Journal.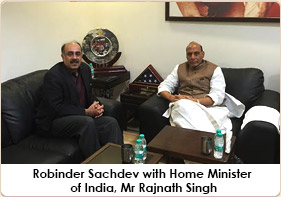 Early in his career, Mr. Sachdev pioneered technology-based professional political consulting in India, and has provided advisory services for two national parliamentary elections in India. In 1989 he conceptualized and was software architect of an 80-people 24x7 IT project that reported directly to then Prime Minister, Shri Rajiv Gandhi ji - during part of the year long project, Mr. Sachdev's office was based at the PM House. Presently he is also strategic advisor to the oldest farmers' lobby organization in India, the Bharat Krishak Samaj.
Over the last decade, Mr. Sachdev has been actively involved in grassroots and elite public affairs in the U.S. and India. He has done extensive work on range of issues of interest to the Indian American community and U.S.-India relations. In 2007, Mr. Sachdev was profiled as one of the twelve most influential Indian Americans in the U.S., along with Bobby Jindal, Jagdish Bhagwati, Fareed Zakaria, etc., for his work in promoting the U.S.-India civil nuclear deal.
Mr. Sachdev has taught as Adjunct Faculty at American University, Washington, DC and contributed to training programs in cross-cultural communications for U.S. Navy, U.S. Department of State, and conducted workshops for CEO's of European IT companies. He was the founding advisor to the Intercultural Management Quarterly, now published by American University.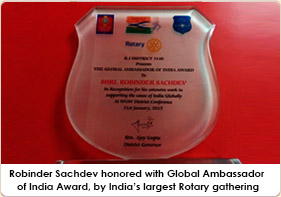 Mr. Sachdev worked in the telecom sector in the U.S. before relocating to India, and also co founded a broadband wireless ISP in the Washington, DC area. He is a published author in satellite communications (Pub. Elsevier), and has written over 30 op-ed columns on U.S.-India relations in leading U.S. and Indian media.
Mr. Sachdev's views and analysis on Indian foreign policy and U.S.-India relations, are regularly sought by leading media such as National Public Radio, New York Times, Washington Post, Wall Street Journal, Forbes, BusinessWeek, India Today, Outlook Business, Economic Times, Times of India, Hindustan Times, Financial Express, DNA, Deccan Herald, The Tribune, BBC WorldService, NDTV, CNBC, CNN-IBN, News X, Headlines Today, Aaj Tak, Sahara Samay, Asahi Shinbum, Yomiuri Shinbum, Nikkei, etc..
Mr. Sachdev holds a MBA in Strategy, a MA in International Relations, both from American University, Washington, DC; a B Tech in Electrical Engineering, from G B Pant University of Agriculture and Technology, Pantnagar; and was schooled at St. Joseph's Academy, Dehra Dun.